History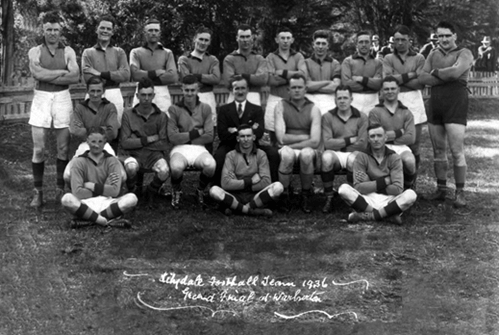 Lilydale has had a varied history combining reasonable amounts of success with some prolonged spells of hardship. The club currently competes in the Eastern Football League's Division One, but a couple of decades ago it was in Division Four, and struggling for its very survival. Had it actually gone to the wall at that time it would have been nothing short of a football tragedy in that the club is one of the oldest in Victoria, dating back to 1872.
Lilydale's early years were comparatively undistinguished, but after joining the Yarra Valley Football Association in the mid-1920s the club gradually emerged as a force. The teams it fielded on either side of (and partly during) world war two were among the strongest in its history, claiming premierships in 1936, 1938, 1940 and 1946. After transferring to the Croydon Mail Football League in 1947 Lilydale suffered the agony of finishing second on three consecutive occasions, and as if in reaction to this, the ensuing decade, throughout which it competed in the Croydon Ferntree Gully Football League, saw the club consigned, for the most part, to mid-table mediocrity.
The 1963 season saw Lilydale lining up in Division Two of the Eastern District Football League and over the course of the next decade it was a regular finalist. However, after losing to Bayswater in the 1973 Division Two grand final the club went into a slow but steady decline and the early 1980s saw it competing in Division Four, which was, and remains, the EDFL's bottom tier of competition. In 1983 it seemed as though the Lilydale was on its last legs, but with everyone at the club rallying around it not only survived but went on to enjoy its most noteworthy era for half a century.
The 1986 season saw Lilydale contesting its second senior grade EDFL grand final, this time in Division Four, but just as thirteen years earlier it ended in defeat, this time at the hands of Mount Evelyn. In 1987 Lilydale again lost the grand final before making it third time lucky in 1988 and securing promotion to Division Three by means of a 13.12 (90) to 5.4 (34) grand final defeat of Nunawading.
The club's next three seasons in Division Three followed an identical pattern to the previous three years in Division Four as Lilydale lost the grand finals of 1989 and 1990 to Norwood and Coldstream respectively before seeing off the grand final challenge of Fairpark in 1991.
Escaping from Division Two proved more problematical, but only slightly so. Lilydale qualified for a grand final in 1995, only to lose by 9 goals to Bayswater. The following year the side made amends with a 13.18 (96) to 11.13 (79) grand final triumph over Montrose, thereby procuring promotion to Division One.
Lilydale's initial stint in Division One lasted just a single season, as did the club's second such stint which was secured on the strength of a 10.6 (66) to 9.5 (59) Division Two grand final conquest of Boronia in 1998. However, after claiming their third Division Two premiership in 2003 the Falcons remained a Division One club for the next seven seasons, with their stay highlighted by consecutive finals appearances in 2006 and 2007. They also contested the finals in 2009 but the following season saw them slump to the wooden spoon which meant relegation back to Division Two. Their time at that level was brief as they sustained just 1 loss during the entire 2011 season en route to a fourth Division Two flag. Opposed in the grand final by Montrose theFalcons led all day before ultimately triumphing by 13 points, 15.9 (99) to 13.8 (86). Back in Division One they performed solidly in both 2012 and 2013 but thereafter struggled. At the end of the 2015 season they were relegated back to Division Two which is where they have continued to compete since finishing sixth in 2016 and fourth in 2017 after losing the first semi final to Mooroolbark by a couple of points. Then, in 2018 they got as far as the grand final only to lose by 60 points to Doncaster East.